Traditions and Events Ligurian
Last Albums
Advertising
Historical re-enactments in Liguria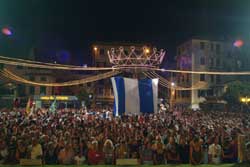 Furgari in honor of the feast of St. Benedict Revelli in Triora, recalls an episode in the war between Genoa and Savoy and takes place on 12 February, the feast of the boat Bayard recalls a fact of love and death of the thirteenth century, the assault Castle Giustenice begs the war between the Marquis Del Carretto and Genoa in 1448-52, and finally Dolceacqua, the feast of Michet recalls the rebellion to the "jus seigneur, August 15.
A Lavagna, on 14 August, a holiday that combines history with gastronomy is the Torta dei Fieschi who remembers when, during the marriage between the Count Opizzo Fieschi and Bianca de 'Bianchi, in 1230, was offered to all a piece d' a giant cake that is played every time, while the night before in San Salvatore di Cogorno we celebrate the stag night of the same count (Addiu du Fantin).


The content of the page is automatically translated.
Rate: 0.0 | Comments (0) | Write Comment