Cinque terre, holidays in Riomaggiore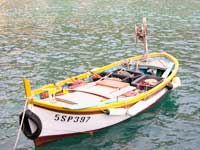 Named after the Rivus Major that crosses it, Riomaggiore was founded around the 13th century and houses the headquarters of the Cinque Terre National Park .
Riomaggiore was a fief of the Turcotti , to whom we owe the construction of the Castle of Cericò in 1260, then it belonged to the Fieschi family until it passed into the hands of the Republic of Genoa .
To see in Riomaggiore
To the side of the castle, preserved in the Oratory of San Rocco , there is a triptych of the Tuscan-Genoese school as well as in the Oratorio dei Disciplinati .
The most important work is the Parish Church of San Giovanni Battista , the work of Antelamic workers, built in 1340, although restored in later times (the facade is from 1870 but the rose window and the doors on the right side are original).
Despite the importance and beauty of sacred works, what has inspired artists such as the Macchiaiolo Telemaco Signorini are the colors of the houses and nature that surround Riomaggiore.
The houses, placed side by side, have their own history and have determined the history of the people who live there (since it was not customary to give names to the streets, they began to give it to the houses based on who lived there, but later became the houses to determine those who lived there, giving birth to the families).
Excursions to Riomaggiore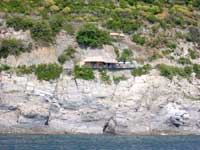 The wine train that carries the harvested grapes downstream allows you to go up to the Sanctuary of the Madonna di Montenero above Riomaggiore, and to the paths of Torre Guardiola , where there is a botanical center (there are trees and trees such as the holm oak, the alaterno and the mastic tree) and the possibility of birdwatching : in fact, you can meet numerous species of the Mediterranean scrub such as gray, gulls and buzzards.
Walking towards Portovenere you come to the town of Tramonti , where there is a large megalith (2.4 meters high) dating back to the Bronze Age and around which many legends were born, one of which helped to make it known also as the Menhir of devil .
Riomaggiore