Tourism in Liguria
In Liguria the tourist ports and marinas are officially 68 and some are now "historic", such as the Marina Porto Antico in Genoa and Portofino .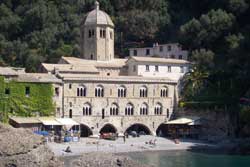 The Fondo per l'Ambiente Italiano in Liguria manages four assets of artistic and historical value: the Abbey of San Fruttuoso di Capodimonte in the bay of the Portofino mountain , the Giacalone workshop , a small liberty-style barbershop in the heart of old Genoa, the Carbone house in Lavagna , and the Villa di San Luca in Ospedaletti , better known as the Laura house , which houses a collection of artistic objects collected by the former owners. Furthermore, during the Spring Festival , the FAI organizes the opening of buildings and places usually closed to the public to visit and discover.
It is not easy to count the beauties of Liguria in a few words, but there are some fascinating places not to be missed such as Dolceacqua , painted by Monet in the paintings now kept at the MOMA in New York, which over the centuries has been the feudal capital of the Dorias and Savoy . Today it is an artistic center and capital of the Rossese area , a wine loved by Napoleon and Peynet .
Sanremo , the main center of the Riviera dei Fiori , where you never sleep and where there is no winter, is a must for tourists who want to have fun and entertain themselves in the clubs of the city.
Noli was the fifth maritime republic and the place preserves the Middle Ages between the towers and the frescoed walls , at Capo Noli the coast is vertical and the limestone cliffs attract climbing enthusiasts who descend here from the mountain towards the sea.
Genoa with the noble residences that fascinated Rubens and the Porto Antico and Sotto Ripa with the shops, the eight hundred year old fishmongers are not to be missed, as well as the Cinque Terre , and above all the elegant Vernazza , with the Gothic church that touches the sea .
Tourism in Liguria