Cinque terre, holidays in Manarola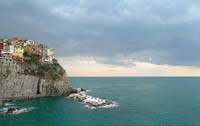 Manarola, today a hamlet of Riomaggiore , was born in the 12th century when the people of Volastra (from Vicus Olestre, the land of olive trees) built the marina there and was probably named after a small temple dedicated to Mani , the souls of the dead, in Roman times.
To see in Manarola
Even in Manarola the colorful houses climb the rock 70 meters above the sea and the whole village is made up of narrow alleys and wide stairways that lead to the vegetable gardens and vineyards that develop vertically.

The Church of San Lorenzo (Church of the Nativity of the Virgin Mary) dominates the square of Manarola, with a Gothic facade but remodeled in the Baroque era.
The most famous road, however, is the Via dell'Amore , a source of attraction for lovers attracted by the romantic atmosphere that this path emanates. About a kilometer long, built 30 meters above the sea, the Via dell'Amore was originally a powder keg. It was then decided to make it a road to connect Manarola and Riomaggiore : it was called Strada Nuova , but when the journalist Paolo Monelli , for a lucky circumstance, wrote about it in the pages of Corriere della Sera , he renamed it with the name by which everyone knows it today. .
Events in Manarola
At Christmas Manarola is transformed: the hill overlooking the town lights up with the silhouettes of over three hundred figures designed to represent a huge and suggestive nativity scene.