UNESCO World Heritage Site in Liguria
UNESCO heritage are the coast between the Cinque Terre and Portovenere together with the islands of Palmaria , Tino and Tinetto , where the meeting between man and nature is clearly visible. The Beigua Regional Natural Park , in 2005 became part of the European and Global Geoparks because it is a territory with a heritage that ranges from geology to archeology and in 2006, in Genoa , the Strade Nuove and the Palazzi dei Rolli dating back to the "century of Genoese ", have become part of the World Heritage List .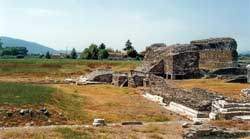 The palaces and the sixteenth-eighteenth-century villas of the patrician families are today precious places of art and while some are in ruins or privately owned, others are venues for events, conferences and exhibitions. There are also many sanctuaries placed on the heights, created to commemorate miraculous events that also served as a refuge from Saracen raids, and today they preserve thousands of ex-votos, as a testimony of the grace received.
The archaeological area of Luni is certainly the most interesting but there are also the areas of Ventimiglia and Albisola Superiore to visit and discover; minor archaeological areas are the numerous pre-Roman castles and rock engravings.
The caves and various cavities of limestone origin are very frequent and the largest have hosted the ancestors of the Ligurians in prehistoric times and today they preserve their engravings: some, however, are not open to tourists like those between Sanremo and Albenga , while they can be visited. the caves of Balzi Rossi on the French border and the caves of Toirano in the Savona area.
There are about 190 museums which are joined by libraries and historical archives present throughout the territory.
Tourism in Liguria