Popular festivals in Liguria
In the twentieth century, many popular festivals and traditions have been lost, however they persist in the main holidays such as Christmas, Easter and New Year, as well as the celebrations of some patron saint, together with some profane festivals brought here by distant peoples with whom the Ligurians in past centuries.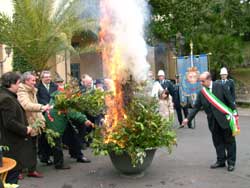 In Genoa , Savona and Pietra Ligure , on Christmas Eve a tree trunk is burned to draw good wishes, it is the Confuoco ceremony; in Manarola and Pentema the nativity scene is celebrated throughout the city, almost a contemporary work. The Infiorata del Corpus Domini , then, in Diano Marina and Brugnato is linked to the change of seasons, while the bonfires of San Giovanni celebrate the summer solstice and in Genoa the bishop blesses the sea. In reality there are other events that celebrate the passing of the seasons and other ritual religious festivals, which are remembered on 8 September, the feast of the Madonna, commemorated in many places with fireworks such as those of the Recco Fire Festival .
The Palio di San Pietro in Genoa (29 June), that of the gulf in La Spezia in early August and the procession of boats in Camogli in August, are of maritime origin, among which the Historical Regatta of the Maritime Republics stands out. takes place every 4 years in the waters of the port of Genoa , the day after parading in period costume through the streets of the city.
The processions of Good Friday and that of August are religious events in which the Casacce , brotherhoods of mercy of late medieval origin, are very important, which are divided between purtuei ("bearers" of Christ) and the strauei (lifters) who pass the crucifix from one bearer to another.
Historical reenactments in Liguria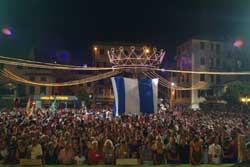 The feast of the Furgari in honor of San Benedetto Revelli in Triora , recalls an episode of the war between the Genoese and the Savoy and takes place on February 12, the feast of the Barca di Baiardo evokes a fact of love and death of the thirteenth century, the assault at the Castello di Giustenice it re-proposes the war between the Marquises Del Carretto and Genoa of 1448-52, and finally in Dolceacqua , the feast of the Micheta commemorates the rebellion against the " jus primae noctis " on 15 August.
In Lavagna , on August 14, a feast that combines history with gastronomy is the Torta dei Fieschi which recalls when, during the wedding between Count Opizzo Fieschi and Bianca de 'Bianchi , in 1230, everyone was offered a slice of a gigantic cake that is reproduced each time, while the night before, in San Salvatore di Cogorno the bachelor party of the same count is celebrated (Addiu du fantin).
Traditions and Events Ligurian